"Slider: The Otter," sometimes styled as "Slider, the Otter," is the third episode of the third season of Wild Kratts, originally airing on PBS Kids on July 22, 2014.[1] Overall, it is the 69th episode of the series. The episode was written and directed by Martin Kratt.
In the episode, a river otter pup is sucked into a ship's hold and taken from its home in Northeastern North America to the Florida cypress swamp. After it escapes, the Kratt brothers find it and, thinking that it is from the cypress swamp, set out to reunite it with its family and to help it learn how to survive in the cypress swamp.
Plot
The episode begins with a live action segment. The Kratt brothers hang out with Asian small-clawed otters. Afterwards, they ask their "What if?" question, and the show transitions into the animated segment.
In Northeastern North America, a river otter pup follows its family out of a river and onto the riverbank. When a pine cone falls into the water, the otter gets distracted and slides back down to play with the pine cone. However, a large ship sails by, and the otter gets sucked through a porthole and into the ship's hold. The ship sails downriver into the Florida cypress swamp, where the otter escapes when the porthole opens. Chris and Martin Kratt, who are climbing cypress trees and floating under cypress roots, respectively, see the otter and swim towards it. Realizing that the otter is lost, the Kratt brothers set out to reunite it with its family. The first thing they do is teach it how to catch fish. However, the otter is much too young to catch fish on its own, so they decide to herd a school of fish towards it. The otter dives down and catches a fish and slides back down into the water. The otter's habit of sliding around convinces Martin to name it Slider. Additionally, he decides to name Slider's mother Splash when he meets her. The Kratt brothers then introduce Slider to their teammates. Slider's graceful moves in the water inspire Aviva to make Otter Power Discs.
The Kratt brothers continue their search for Slider's family. After saving Slider from a gar, which Slider swims towards and not away from, Martin thinks that Slider has never seen a gar before and may not be from the cypress swamp. Chris, however, thinks Slider is too young to understand that gars are predators. They then call Aviva, who finishes a pair of Otter Power Discs. Jimmy teleports them to the Kratt brothers, who activate their Creature Power Suits. Using Otter Powers, the Kratt brothers save Slider from an alligator and help him catch his first fish. Afterwards, the Kratt brothers find a family of river otters. Thinking that they must be Slider's family, the Kratt brothers nudge Slider towards them, but instead of a welcoming embrace, the family of otters attack Slider. It turns out that this is not Slider's family. Chris brings Slider to the Tortuga while Martin fends off the otters. When Chris returns to the Tortuga, however, Slider freaks out and swims away. When Martin returns and sees that Slider does not want to be in the Tortuga, Martin concludes that Slider must be afraid of giant ships. Aviva swabs Slider's throat and does a DNA test of the saliva, which is not an exact match. Furthermore, the Kratt brothers and Aviva conclude that Slider is not from the Florida cypress swamp and they've been looking for his family in the wrong place. Koki compares Slider's genetic pattern to the other patterns of river otters from all over North America. Koki's database shows that Slider is from the Northern Woodlands in Northeastern North America instead of the Florida cypress swamp. Martin and Chris wonder how Slider got to the cypress swamp. There is no way he walked or swam that far. Koki messages Wild Kratts kids in Northeastern North America. Jimmy, impatient to hear back, tells everyone to board the Tortuga so that they can start flying north. The rest of the crew reminds Jimmy that Slider is afraid of it. Jimmy says that he forgot and apologizes. Martin and Chris make a plan to bring Slider back home. Obviously, they can't swim in it because it'll take too long. They'll have to fly, just not in the Tortuga though. Aviva offers the rocket jet, but Slider doesn't accept it. Jimmy offers the Buzz Bikes, but Slider doesn't like them either. and eventually receives a message from Wild Kratts kids Gavin, Ronan, and Katie, who tell them that an otter pup has been missing for two weeks, and confirm that the otter pup is Slider. Aviva is wondering how they return Slider back if he's afraid of all the vehicles. To return Slider back, the Kratt brothers touch an osprey and activate Osprey Power. Although they are ready to take off, they are unable to find Slider. They are worried that Slider has gone back into the water, which is full of predators. They decide to find him and they turn on anti-glare osprey vision. They grab what they think is Slider, but they instead pick up a gar and an alligator. After flying a couple of miles, Aviva calls the brothers to come back and she tells them that Slider was with them the whole time. Chris comes back to pick up Slider before heading north with Martin. Although Slider is terrified with machines, he likes Osprey powers. Once they arrive, the Kratt brothers meet the three kids, and together they reunite Slider with his family.
The episode transitions into the concluding live action segment. The Kratt brothers continue playing with the Asian small-clawed otters, in the water and out. Afterwards, they conclude the episode by saying "Keep on creature adventuring; we'll see you on the creature trail!"
Characters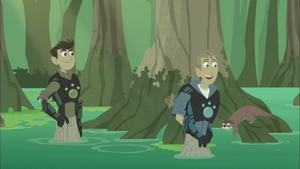 Animals
Animation
Note: Featured animals are in bold.
Live-action Images
Note: Live action animals are linked to Wikipedia.
Trivia
References
Community content is available under
CC-BY-SA
unless otherwise noted.