"Puffin Rescue" is the seventh episode of the fourth season of Wild Kratts, originally airing on PBS Kids on January 18, 2017.[1] Overall, it is the 99th episode of the series. The episode was written and directed by Martin Kratt.
In the episode, the Wild Kratts are flung in multiple directions over the open ocean when a rogue wave hits their Tortuga. While he and his teammates try to stay sane and survive long enough to find each other, Martin is washed ashore on a rocky island inhabited by a puffin family. When Aviva finds him, and after seeing a puffin catch many fish in its beak, Martin asks Aviva to make a Puffin Creature Power Suit so he can use it to rescue the rest of the Wild Kratts.
Plot
The episode begins with a live action segment. The Kratt brothers are at the Machias Seal Island Migratory Bird Sanctuary, a rocky island populated by seabirds. They pick up their camcorder and enter a box called a blind. They set up their camcorder and zoom in on some puffins. Afterwards, they ask their "What if?" question, and the show transitions into the animated segment.
It is another day of work and fun for the Wild Kratts as their Tortuga hovers over the open ocean. Koki is on her computer in the main room and opens the sunroof to let in a little air. Martin plays table tennis with a Guineafowl Flapper controlled by Jimmy Z. Chris enters the main room and hands his Creature Power Suit and Creature Power Discs to Aviva so she can "run some diagnostics" and improve his suit's performance. Aviva also asks Martin for his Creature Power Suit, which Martin wears under his tracksuit. All of a sudden, Koki finds out that the Tortuga is approaching a rogue wave. She dashes into the cockpit and tries to avoid the wave, but it is too late and the Tortuga crashes into it and flips over. The Wild Kratts fall out through the sunroof and are flung in multiple directions away from each other.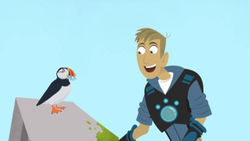 After falling out of his tracksuit and sinking, Martin is washed ashore on a rocky island. Realizing that he is still wearing his Creature Power Suit, Martin decides to find out if the island has any creatures on it so he can activate a Creature Power that can get himself off the island. He looks at a few holes in the rocks, thinking that they are burrows. A puffin then comes out and flies off to catch fish. After it returns with a beak full of fish, Martin names the puffin Puffo. Seeing the many fish Puffo caught, Martin is inspired to use Puffin Power to rescue his teammates. He sets up a smoke signal in hopes that Aviva sees it. Aviva, who survived the wave by inflating a life raft built into her Mobile Invention Kit, sees the signal and propels her life raft towards it. When she arrives on the rocky island, Martin promptly introduces her to Puffo and asks her to make a Puffin Creature Power Suit. Aviva watches as Puffo flies out to sea and dives down to catch fish. Puffo catches a beak-full of fish and flies back to feed his mate and chicks, which Martin names Puff and the Finnster. Aviva uses this information and a scan of Puffo's mate to make a Puffin Power Disc with her Mobile Invention Kit. She hands the disc to Martin, who transforms himself into a giant puffin. He picks up Aviva in his beak, waddles to the highest point on the island, spreads his wings, and takes off. After Martin swiftly rescues all of his teammates and heads to the nearest land mass, the Wild Kratts work together(with Chris activating Sperm Whale Power and Martin activating Giant Squid Power) to haul their Tortuga out of the water.
The episode transitions into the concluding live action segment. The Kratt brothers continue to observe puffins on the rocky island. Afterwards, they conclude the episode by saying "Keep on creature adventuring; we'll see you on the creature trail!"
Characters
Animals
Animation
Note: Featured animals are in bold.
Dream
Live Action
Note: Live action animals are linked to Wikipedia
Trivia
Gallery
References
Community content is available under
CC-BY-SA
unless otherwise noted.